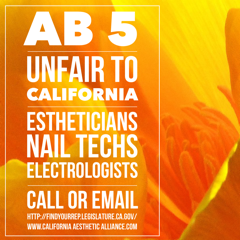 PROPOSED LAW PROHIBITS BOOTH RENTAL BY NAIL AND SKIN CARE PROFESSIONALS
Only hair service providers would be allowed to booth rent in California.
San Diego, California: Given the popularity ofbooth rental, the significant impact of last year's California Supreme Court decision known as Dynamex on the beauty industry has been difficult to manage. When booth rental is no longer a legal business model, what options do beauty professionals have other than employment or salon ownership?
Recent legislation authored by Assembly Member Lorena Gonzalez, D-San Diego, would clarify the Dynamex decision and most important, exempt certain professions. However, as currently amended, the only workers in the beauty profession considered exempt would be: "A worker providing hairstyling or barbering services who has a booth rental permit and is free from direction or control both under the contract for the performance of the work and in fact" (AB 5).
Because nail and skin care services are specifically excluded, workers who provide these services would be prohibited from working in a booth rental arrangement. If enacted, this law would disadvantage more than 220,000 licensed nail and skin care professionals, many of whom operate as independent businesses within a licensed salon environment.
Jaime Schrabeck, Ph.D., licensed manicurist and owner of Precision Nails, an employee-based salon in Carmel, California, opposes the legislation unless amended to include all licensees of the Board of Barbering and Cosmetology. "Denying licensed manicurists, estheticians and electrologists the opportunity to booth rent based on their scope of practice would be discriminatory and likely unenforceable. By limiting the exemption, this bill ignores the fact that cosmetologists are licensed to perform nail and skin care services also. How can cosmetologists be considered both booth renters and employees when minute by minute they could be providing hair, nail and/or skin care services? Laws that affect BBC licensees must apply fairly and equally to all."
"Circumventing this population doesn't fix the Dynamex problem," according to Wendy Cochran, licensed esthetician and founder of the California Aesthetic Alliance, an advocacy organization representing California beauty licensees. "Salon owners will be at risk for labor violations and audits by the state, targeting them for significant financial jeopardy. To avoid this, salon owners will push us out of our rentals, disrupting and closing many small businesses."
Want to take action to protect our industry? Contact your state representatives directly by email, phone or social media: http://findyourrep.legislature.ca.gov/. For more information, visit the California Aesthetic Alliance Facebook page.
About California Aesthetic Alliance: California Aesthetic Alliance was created to promote and partner California's licensed beauty professionals with clients seeking the most qualified professionals in the field and to advocate for beauty professionals as they navigate the complicated state regulations.
Press Contact:
Wendy Cochran
562.715.7405
info@californiaaestheticalliance.com